MY NEIGHBORHOOD, THE CRADLE OF my CHILDHOOD
I was born on October 7th , 1951 on the heights of Algiers at 27 rue Colbert. How can I forget these places steeped in the history of Algeria - my history too? Column Voirol, a place a story!
I was very young, in kindergarten, when the teacher told us this story during our first outing at the foot of this column:
"In 1834, General De Voirol had just been appointed commander-in-chief. He designated this place precisely to establish the mileage of the cities and to open the first road which was done by the troops of Algiers until Birmandreis ".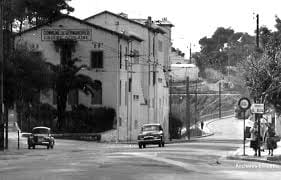 Then she raised her arm and pointed her finger towards the street in front of us:
"You see this street, it's rue de Brazza do you know why?"

All the children were around Miss Doriot our teacher listening to her story. How can I forget this story which made me think years later about some notions that have ruled the world.
"Well, this is where the road to the colonization of Congo-Brazzaville started. "
These details remained etched in my memory for life. This is how I learned the meaning of the word "colonization" at the age of six.
Twenty years later the release of "Voyage au Congo" a book by André Gide, then "Land of ebony" by Albert London deeply resonated with me me….
How can we forget the past on which the history of a life is built, the history of the continents, the history of the world.
Today, I can find my district on google.
https://www.google.com/maps/@36.7536044,3.0410005,394m/data=!3m1!1e3
Colone Voirol is today called "Place Salvador Allendé" but I also see that Colbert street no longer exists but that the name of this hero of French colonization in central Africa, Pierre Savorgnan de Brazza takes the name of my childhood street…
My childhood … Marked by French colonization, certainly, but didn't Kateb Yacine spoke of it as "our spoils of war"?
The strength of my childhood was the family environment in which I grew up. An environment imbued with an ideal shaped by love built on Honor, respect for people in the real sense of the word.
Years later, I find myself a professor at the university teaching the module of "Electrical and electronic measurements". The first lesson of this module is the definition of the concept of measurement built on the MKSA system (Meter, Kilogram, Second, Ampere).
Continue my story and you will see how much our life is a tangle of events, facts, circumstances which are made during your existence and I can affirm to you that "Nothing is made for nothing" … everything has a cause and everything has an effect.
… I continue my story…
Notes :
https://georepository.com/datum_6304/Voirol-1875.html
Fundamental point: Voirol. Latitude: 36°45'07.927″N, longitude: 3°02'49.435″E of Greenwich. Uses RGS (and old IGN) value of 2°20'13.95″for Greenwich-Paris meridian difference.
Voirol 1875 is a geographic 2D CRS last revised on 30 mars 2020 and is suitable for use in Algeria – onshore north of 32°N. Voirol 1875 uses the Voirol 1875 as its datum. Voirol 1875 is a CRS for Geodetic survey. It was defined by information from IGN Paris. The appropriate usage of CRSs using the Voirol 1875 and 1879 datums is lost in antiquity. They differ by about 9 metres. Oil industry references to one could in reality be to either. All replaced by Nord Sahara 1959 (CRS code 4307).