The imzad is the child of silence and the lament of the desert!
He was born in nomadic tribes and his breath comes from the free space around him.
It is in this space of freedom that the imzad was born and that it is transmitted from generation to generation without losing its foundations.
One cannot speak of AHAL and IMZAD without referring to the beautiful DASSINE, goddess of Ahaggar, queen of beauty and virtuoso of Ahal and Imzad. Indeed at the beginning of the XXth century, she was the cantor of the imzad, of poetry and of beauty.
Yes, it's true, a long time ago, so long ago … Dassine was a poet, in fact a princess of poetry … her muse that made hearts vibrate made her say:
"Prefer any voice,
Prefer with me the voice of the imzad,
The violin that can sing.
And don't be surprised that it only has one rope.
Do you have more than one heart to love?
My imzad alone is all the space that calls you. "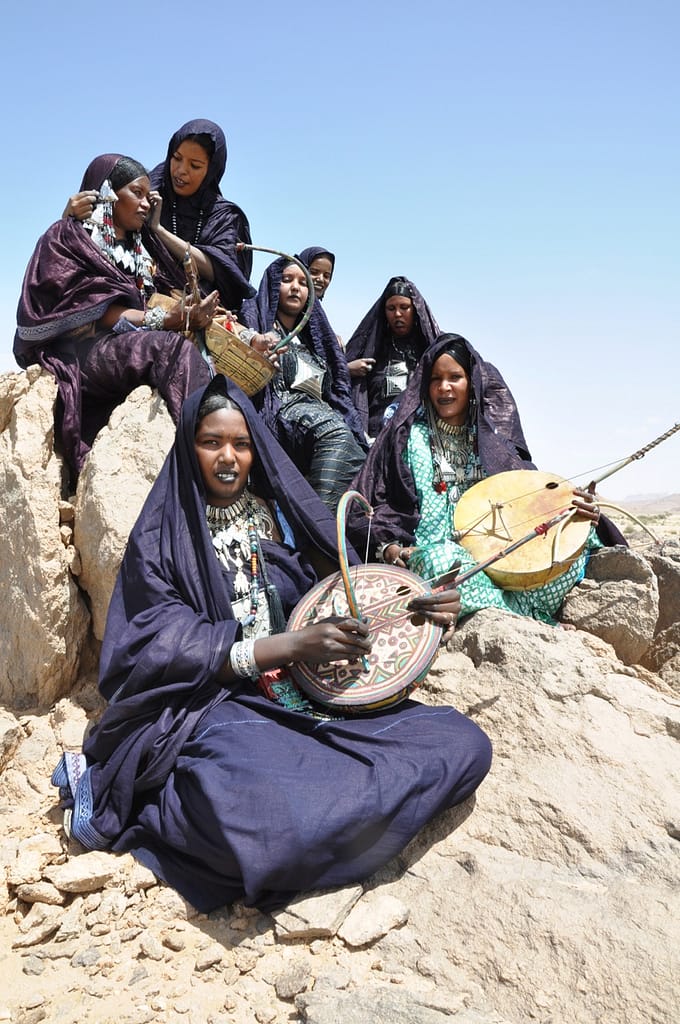 Association "Sauver l'Imzad" (Save the Imzad)
The Association "Sauver l'Imzad"  has brought together several volunteers, the majority of whom are from Hoggar. It was created and approved by decision of Wali (Governor) of Tamanrasset under N ° 53/2003 dated October 27, 2003. The Association acts on a non-profit basis with contributions from sponsors, and civil society as a support lever, to achieve humanitarian, cultural and social objectives.
The primary objective of the Association is to participate in the safeguarding of the intangible cultural heritage of Hoggar, by campaigning for the preservation of the authenticity of the imzad as a cultural and identity expression.
The fight against poverty and deprivation is also one of it concerns and that is why the conviction of the Association "Saving the imzad" goes through a long-term process guaranteeing:
–  Promotion of the Touareg culture
–  Training of young generations
– Organization of debates, exchanges, meetings with those who work for such an objective, in Algeria as everywhere else in the region, and this, with the institutions concerned.
It was obvious that for the members of the association who are getting involved and working as a team, in a logic of sustainable development, induces a full investment and an individual and collective ethics. This should be based on the principles of transparency and collegiality in the decision-making process, including in particular local partners.
This is how the association was born in 2004
DAR EL IMZAD A SCHOOL FOR ALL