After obtaining my Master's degree in telecommunications engineering, transmission specialty, I started my career at the Ministry of Posts and Telecommunications on September 1, 1975. My career within this ministry started with the rigor of late Aït Messaoudène Said, a minister who gave us the example of righteousness and integrity. Every morning, Mr. Aït Messaoudéne was at the entrance to the Ministry. He was there standing welcoming us but also to check our dress which had to be worthy of a public servant. This is how I met for the first time in my life a minister of the Algerian republic. And, this is how I learned what quality management was: he was a man of virtuous qualities.
What I remember from my time in this ministry is the sense of responsibility that was entrusted to me since an early age. From 1975 to 1978, I filled several positions as head of department at the office of Radio relay in the ministry, teacher at the central school of P&T, district engineer then after the transfer of my husband to Tamanrasset as chief of Daïra I was transferred in Tamanrasset.
Among the main tasks that I had to carry out are in particular the creation and opening of thirty-two postal agencies in the Hoggar with connection by radio relay. These were Harris relays that I had to install, and I had been trained for this:
What was extraordinary at the time was this way of trusting young people by training them in the most advanced techniques of the moment and then giving them responsibility for a mission. So how can we not respond with a total commitment?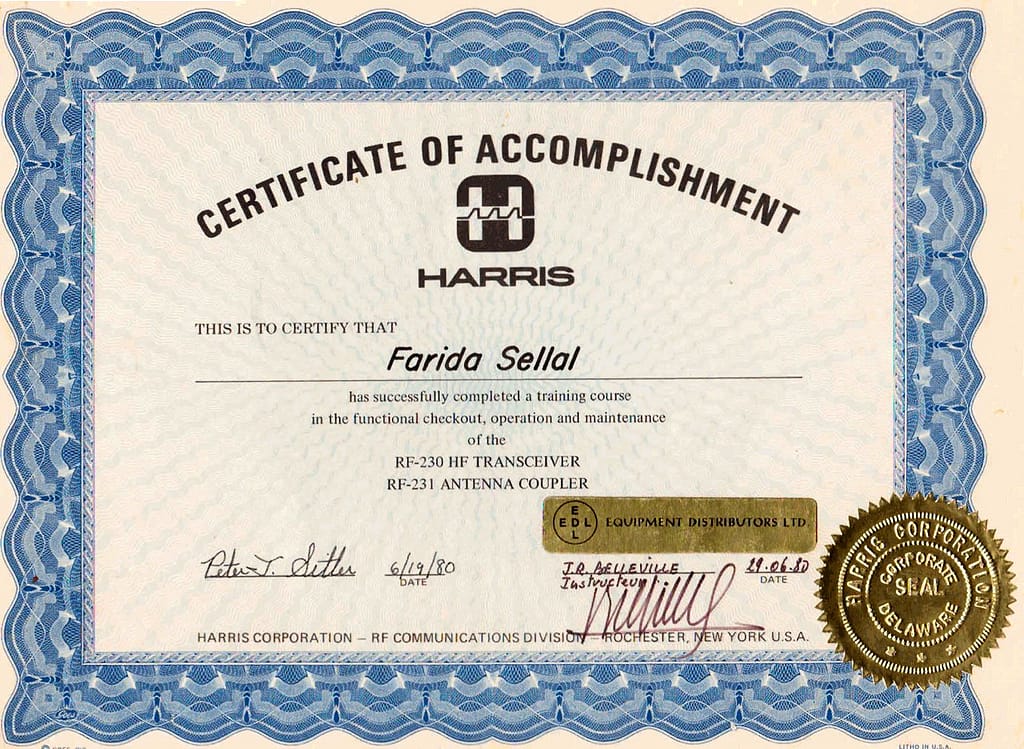 It was then; when I was 27, or barely 28, when I crossed the Hoggar. And that's how I discovered the value, the only one that gives meaning to a life: peace with oneself and … That's what the desert taught me.
I told this story on page 43 of "Nomads" in a chapter called: "Lost". For three days and three nights, I got lost in Timissao on my way toTimiaouine. I will come back to this story in history of desert.
What I learned at the Ministry of Posts and Telecommunications are the responsibilities that were entrusted to me despite my young age, but especially my status as a woman. I was five months pregnant with Fares, my son who was born in Tamanrasset, and despite this my function and my responsibility took precedence over my status as a woman.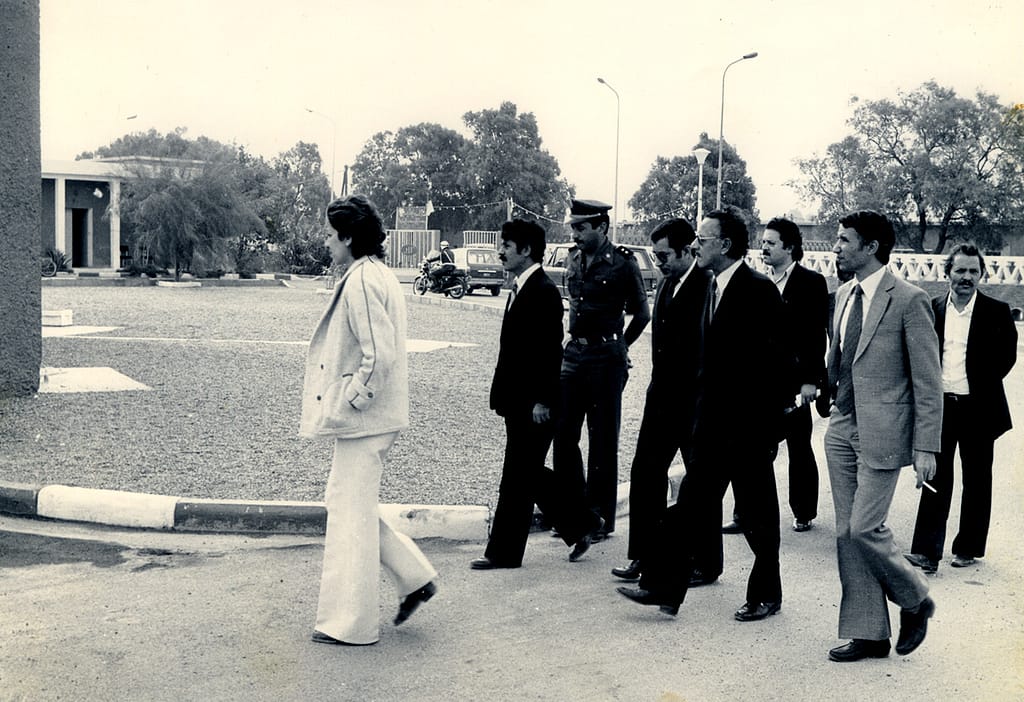 December 1981, the visit of the Minister of Post and Telecommunications Mr. Boualem Bessaieh to the earth station of Tamanrasset. From left to right, Mr. Ahmed Sebbah le Wali (governor) of  Tamanrasset, Farida Sellal Director of wilaya of P&T, Mr. Boualem Bessaieh Minister of P&T, the national commissioner of the party, and Mr. Sellal Abdelmalek Chief of Daïra of Tamanrasset"
My dedication and my determination earned me the recognition of my chiefs and my ministry which made my father very proud when one of his friends told him that my photo is hanging in the hall of the ministry. I was really happy and fulfilled in my work which absorbed me as much as my little family.
But when my husband was promoted to the post of Wali (Governor) in the north of the country, I could no longer hold the position of Director of the wilaya with my husband as direct chief executive.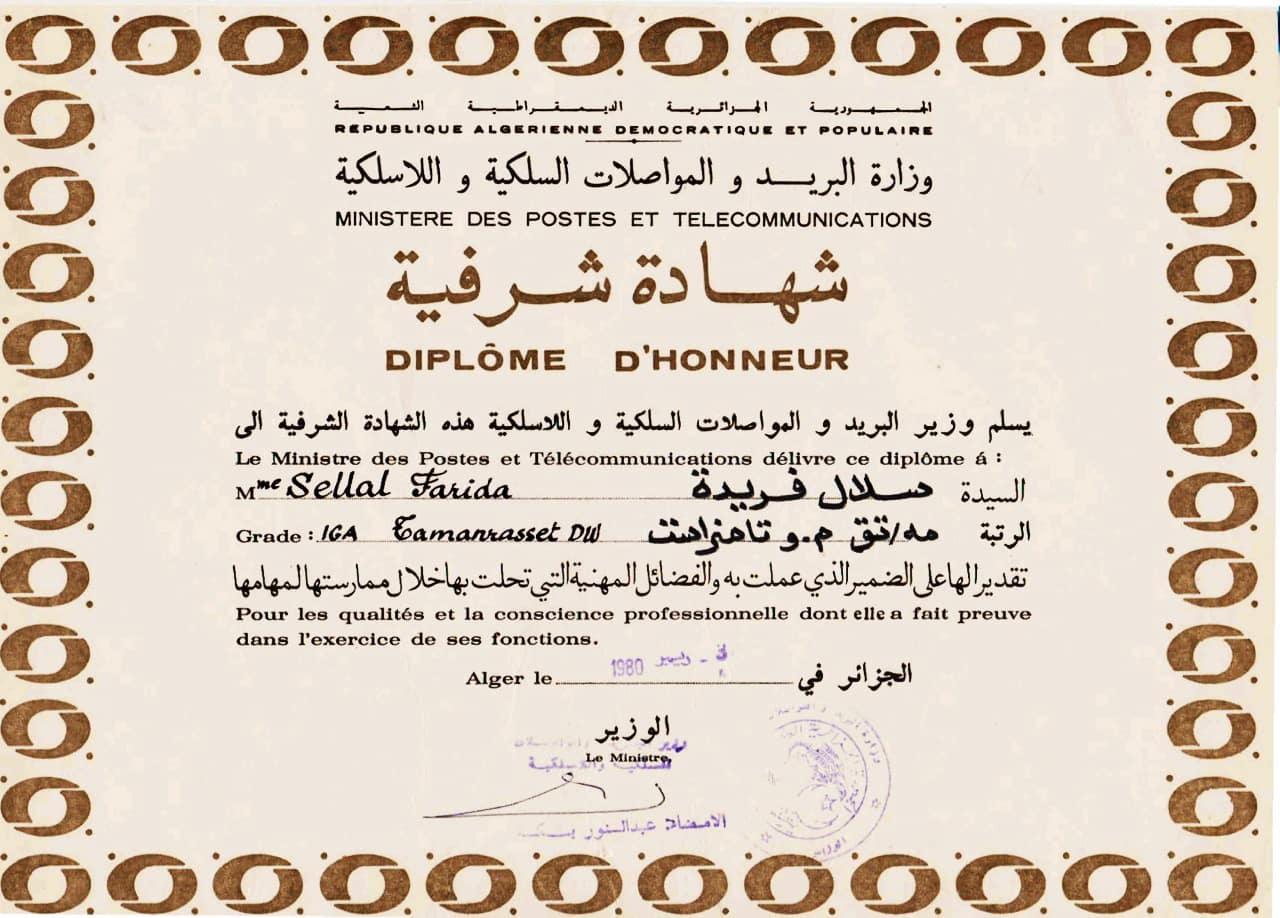 This is how I left the Ministry of Post and Telecommunications, which had taught me so much. I had the honor and the happiness of having worked with these people of great values who gave so much to Algeria without forgetting Messrs.' Aoubida, Bencheikh Lafgoun, Benabderahmane, Hamdaoui, Hamza, and so many others because at that time, the P&T family was known to be a model of administration.
MAIN WORK IN THE POST AND TELECOMMUNICATIONS SECTOR
Creation and opening of thirty two postal agencies in Hoggar with connection by radio relays.
Study and monitoring of the construction of a 10,000-line telephone exchange.
Extension of satellite circuits.
Study of the project to realize the automatic in Tamanrasset.
Automation in "In Salah" with network extension.
Study of the project for the connection of 32 isolated localities to the national network.
Study and realization of radio channels (Tamanrasset-Algiers) serving as back-up for satellite circuits.
Monitoring and maintenance of the "Béchar – Adrar – In Salah – Algiers" radio relays.
Study and monitoring of underground pipeline projects (urban and suburban cables).
Control of management and postal and telephone operating systems in Tamanrasset and Adrar.
*1980: Roll of Honour for the best worker of the year issued by the Minister of Posts & Telecommunications.
MAIN INTERNSHIPS CARRIED OUT
Training in the field of communication and science teaching.
Training in business management audit.
Training on data transmission and study of terminal equipment and fiber optic transmission systems.
Training on postal operations and telephone accounting management systems.
HARRIS radio equipment training – New York – U.S
Transmission systems
Training on satellite transmission systems.
Training in the field of electronic switching.